Related jobs
There are currently 14 jobs listed by Treasury
Mediation Officer
| | |
| --- | --- |
| Organisation / Entity: | Treasury |
| Job category: | Customer Services and Call Centre | Management and Support |
| Job location: | Sydney Region / Sydney - Greater West |
| Job reference number: | req12439 |
| Work type: | Full-Time |
| Total remuneration package: | $87,493 - $96,5400 + superannuation + leave loading |
| Contact: | Prony Melvin |
| Contact email: | prony.melvin@treasury.nsw.gov.au |
| Closing date: | 31/03/2022 - 09:59 AM |
| Targeted / Identified: | |
,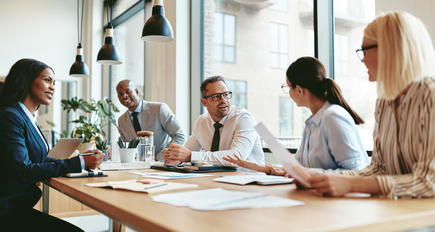 Mediation Officer - Temporary Role
NSW Small Business Commission
Temporary appointment – 6 months – Potential for extension
Be part of a supportive and high performing team
Join a world-class organisation
Provide high level customer service and manage matters arising from mediation applications
Employment Type: Temporary
Work Location:Parramatta
Classification / Grade / Band: Clerk Grade 5/6
Hours Per Week: 35, Flex Leave up to 24 days per annum (pro-rata)
Remuneration: $87,493 - $96,540; plus Superannuation and Leave Loading
Applications Close: Thursday, 31 March 2022 at 9:59am. The closing date may extend
About the Opportunity
Join a highly collaborative, flexible, and inclusive team in a world-class organisation.
In this role you are expected to manage matters arising from mediation applications. Apply mediation principles in managing matters, including referral to external panel mediators and other dispute resolution practitioners. Provide high level customer service in relation to information and guidance for customer enquires relating to the Retail Leases Act 1994 and other commercial leasing and small business matters.
About You
Ideally, you will possess the following skills, experience, and attributes.
Demonstrated ability to apply techniques and processes used in mediation, dispute resolution and prevention
Ability to demonstrate empathy and understanding of disputing parties without compromising mediation neutrality
NMAS training is preferred, or willingness to progress to NMAS accreditation
Mediation experience is preferred

About the Team
NSW Small Business Commission
The NSW Small Business Commission is an independent statutory organization that advocates for small businesses across the State and helps resolve issues affecting them by providing strategic advice and support through alternate dispute resolution and mediation services. It is also the Trustee for all cash bonds held in the Retail Security Bond Scheme as defined in the Retail Leases Act, 1994.
The Commission is hosted by NSW Treasury and is a part of the Treasury cluster of economic development agencies that drives the economic strategy to guide the State's growth for the benefit of the people who live, work and study in NSW.
Mediation Services
The Mediation Services team within the NSW Small Business Commission (the Commission) has been established to provide dispute resolution services for retail and commercial leases, and disputes between businesses. Mediation Services values neutrality, confidentiality, and empowerment of the parties through the mediation process.

About NSW Treasury
As the NSW Government's principal financial and economic adviser, Treasury's role is to enable the Government to deliver its promise to support the people of New South Wales (NSW) and look forward with a renewed ambition to forge a brighter future in a prosperous and confident post-pandemic economy.
As part of our vision to become a World Class Treasury, we believe Treasury has a primary role in supporting and investing in our key partners (service delivery clusters).
Our responsibility includes lifting financial management capability and culture across the sector and supporting the NSW Treasurer's priorities: economic growth, achieving fiscal repair and delivering economic reform, working swiftly to produce implementation plans for each priority.
Visit the NSW Treasury website for further information about our structure and functions:
https://www.treasury.nsw.gov.au/about-treasury/about-nsw-treasury
Talent Pool
A talent pool may be created through this recruitment process. A talent pool represents a group of applicants who have been assessed and identified as suitable for this role or similar roles and who may be considered for a range of similar roles, including temporary, term or ongoing roles, over the next 18 months.

How to Apply!
Submit your application ONLY via the I Work for NSW jobs platform, which should ideally include:
An up-to-date resume detailing your knowledge, skills, and experience in relation to the role.
A cover letter that explains your alignment with the "essential requirements" as shown in this attached role description; accessible for download from the I Work for NSW website.
Lodge your application by clicking on the 'Apply Online' button on the advertisement. Accept the website redirection to NSWconnect and click on the 'Apply Now' button to submit your application.

Support
Contact in confidence: Prony Melvin prony.melvin@treasury.nsw.gov.au
Eligibility
To be eligible to apply for ongoing employment within the NSW Treasury, candidates must be an Australian citizen or permanent resident of Australia.
The successful candidate will be required to undergo a National Criminal Record Check and provide confirmation of academic qualifications before commencement.
Treasury expects all applicants who can be safely vaccinated for COVID 19, to be so.

Our Commitment to Diversity and Flexibility
NSW Treasury is committed to reflecting the diverse communities we serve through an inclusive and flexible workplace.
We welcome applications from all ages and genders, Aboriginal and Torres Strait Islander people, people with disabilities, LGBTQI+ and diverse ethnic and cultural backgrounds.
People with a disability are supported to access adjustments in recruitment processes and the workplace. If you require an adjustment during the recruitment process, we welcome hearing from you.
Close of applications: 9:59 am Thursday, 31 March 2022